Best Thing To Come Out of Queens since Illmatic; Pulse-pounding Entertainment
Scorsese's After Hours meets Pacino's Dog Day Afternoon on Acid
Good Time is directed by the Safdie brothers; they had previously made Daddy Long Legs and Heaven Knows What both of which I had not seen, nonetheless I was super excited for this film. I have been a huge fan of Robert Pattinson's post-Twilight career, he keeps impressing with each film. He was fantastic in The Rover, Cosmopolis, The Childhood of a Leader and earlier this year in an unrecognizable role, The Lost City of Z. Good Time is really where Pattinson proves himself as an incredible performer especially for people that haven't been paying attention to his smaller indie films for the past 6 years. This movie is an insane and relentless odyssey set in Queens, NY; it starts off in the morning of the bank robbery, leads off into the night and ends the following morning. I would describe it as Scorsese's After Hours meets Pacino's Dog Day Afternoon on Acid. There's barely any moment in the film to catch your breath; its an adrenaline rush and you basically feel like a criminal hanging out with other criminals. It's grimy, dirty, cringe-worthy at times but strangely enough it works as a dark comedy in crime incompetence looking back at some of the situations our central character Connie gets himself into.
At the beginning of the film Connie's mentally challenged brother, Nick, gets arrested after a bank heist gone wrong and the whole movie is Connie trying to undo a wrong which is involving his brother in the robbery to begin with. Connie is not a likable character by any stretch but there is no one else left to root for in this film and you're stuck with the character the entire film that you sort of hope he gets his way. Robert Pattinson is simply phenomenal in this movie giving easily the best performance of his career; I had heard comparisons to early De Niro and Pacino and his performance in this film is up there with some of the greatest performances at least for crime movies. He anchors this whole movie and the movie itself has all the hallmarks of a classic and it can be the new Trainspotting for a new generation. One half of the Safdie brothers, Ben Safdie, plays Nick and he is unrecognizable in the film. Nick is the heart and emotional source of the film and the ending of the movie broke me, it is devastating and subtle and the slow ending is a contrast to the nonstop exhilarating ride that preceded it. Another standout was Budy Duress who had worked with the Safdies before in Heaven Knows What, he plays a wild card character. He comes out of nowhere and from the second he appears on screen he changes the dynamics of the rest of the movie all with one epic monologue, an acid trip flashback (pictured below), and he is the source for most of the laughs in this movie.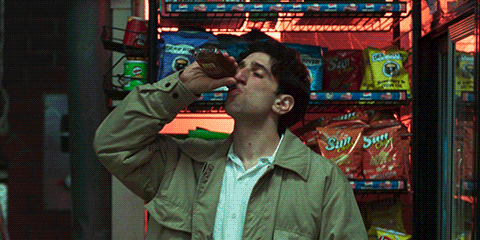 Jennifer Jason Leigh plays Connie's unstable, drugged up elderly female companion and Connie is conning the hell out of this lady for some bail out money for his brother. Although she has a short screen time she is great, as is Barkhar Abdi from Captain Phillips who plays an unlucky security guard for an amusement park which is a bit of a downgrade from being a captain. I was already in love with this movie from all the promos and interviews and amazing pictures and stills. It exceed my high expectations and Robert Pattinson keeps shaping the acting career that he wants by seeking out and working with independent directors. The Safdie brothers made this movie for him, he emailed them about being interested in working with them without having seen their movies, all it took was a still and a poster from their previous film Heaven Knows What.
There is sparse yet precise social commentary exploring white privilege through the eyes of Connie as he maneuvers the societal balance in America to his advantage from one bad situation to the next; all immigrant Americans who cross his path end up considerably worse. There is also a sense of realism in this hyperactive crime thriller that lends to the discomfort and anxiety the audience experiences throughout the film. This stems from the New York filmmakers' obsession with using real locations and working with non-actors paired with Oneohtrix Point Never's pulsating 80's synth style score to match the film; it was shot in 35mm as well. It is one of my favorite films of the year if not my absolute favorite. It makes you long for more movies like this to come out but it's unlikely. I am just thankful this movie exists, it is up there with Blade Runner 2049 and Get Out for my favorite movie of of the year and it is an instant classic.  (10/10)